By Nancy Chuda founder and Editor-in-Chief of LuxEcoLiving and co-founder of Healthy Child Healthy World.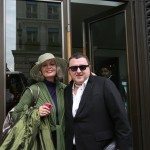 In Paris, fashion takes on new heights when it comes to the exquisite work of Alber Elbaz. For years the French couture house Lanvin had lagged behind some of the greats, Chanel and Yves St. Laurent to mention just two.
I had the privilege of meeting up with Alber in Paris at his flagship Lanvin store. He greeted me wearing his classic black suit and rectangular glasses.
But out of his closet came an inventive yet unspoiled looked for elegance. Rooted in LuxEco's philosophy, he believes that a dress or skirt or sweater should last and be worn for many seasons. Elbaz relies on masterful tailoring, a signature of any great couture house but what makes Lanvin a "must have"  to add to your wardrobe is the spectacular draping and the fit. Like a glove.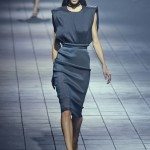 Alber Elbaz has worked in fashion for two decades, including two years as the chief designer of women's wear at Yves Saint Laurent. He was born in Casablanca, reared in Israel, moved to New York in 1984 and lives in Paris. His father was a hair colorist in a Tel Aviv salon. Mr. Elbaz, named Albert at birth, began sketching dresses at age 7. "I had to escape my family," he once said, "and when I left Israel I dropped the 't' from my first name. In Judaism, if you change your name, you change your destiny."
And his destiny was sealed when he moved to Paris in 1996 to become the creative director of Guy Laroche. After only four shows, where he showed smart tweed suits and mohair coats, he was offered the job succeeding Yves Saint Laurent as designer of the house's ready-to-wear for women. When the Gucci Group, led by Tom Ford and his business partner, Domenico De Sole, took over the house,  took time off to travel in India and the Far East.
When I asked him, "what inspires him the most?" He looked at the parade of young  fashion students who had come from the orient as they approached us while standing at the entrance of his favorite store. He smiled and said, "I have to go or I will be swarmed!"
Minutes later, the little man in the classic black tailored jacket with rectangular glasses made more moves than Mick Jagger in  attracting a frenzy for cool couture which is simply elegant and timeless. I'll buy that!