By Nancy Chuda founder and editor-in-chief of LuxEcoLiving and co-founder of Healthy Child Healthy World.
Do drop in when in San Luis Obispo. Visit the mission, have a coffee at Novo, creek side and then get ready to share a meal with some foodie friends.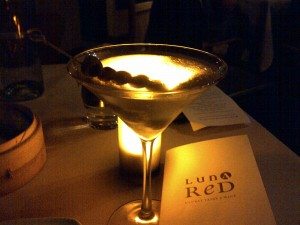 Luna Red is an exquisitely conceived  avant garde restaurant that brings the palette to new heights. Wow!
In today's economy, you may love to eat, even crave food, but you may not have the bread to pay for a five course meal.
Enter the age of America's romance with  the Tapas- Spanish in origin, light in terms of bulk and calories but loaded with flavor and texture.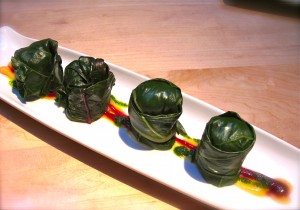 In Spain, an appetizer, called an entremése, is a complement to a meal while a tapa is something altogether different. Although an entremés can be the same little food that a tapa is, it is served differently. It is literally the appetizer coming before the first course. Tapas, on the other hand, are not appetizers. They are tiny plates of food served in bars all over Spain to accompany drinks. It's no wonder that tapas have become a new culinary sensation in many cuisines throughout the world.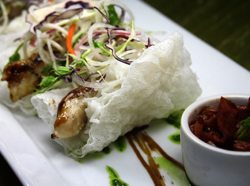 Enter the brilliance of Robin Covey and Shanny Covey who own and operate two of the Central Coast's most popular restaurant destinations—Robin's, in Cambria, and Novo, in downtown San Luis Obispo. Both combine an artful amalgamation of world cuisines, prepared with local fare.
Luna Red, their third venture, sits on Monterey Street, in San Luis Obispo,  is  next to the historic Fremont Theatre. Robin's passion for simple and clean food, local produce, and a warm ambiance helped spur the vision for Luna Red. Inspired by the European custom of respect for the locality and traditional preparation of food, the menu includes cured meats, local cheeses, and produce from regional farmers' markets.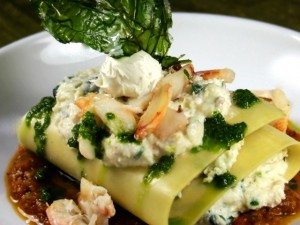 Luna Red was born out of a desire to turn an empty space into a gathering spot full of life and filled with the enticing scents of vogue, yet traditional, cuisine.  A beautiful ambiance which includes green sustainable features; eclectic décor, antique windows, doors converted to stunning mirrors, and 1950s George Nelson bubble lamps. True to the local, sustainable philosophy, Robin pairs his antique and modern pieces with woven bamboo floors, Kirei walls, and a cork-lined planter.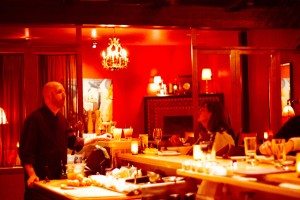 The menu is fabulous! Every morsel and I do mean morsels as tapas are small portions of delectable combination of ingredients and spices intricately prepared to attract the senses; taste, smell, sight, touch and texture.
Real foodies understand that simply prepared foods in a restaurant can be kind of boring. Stay home if you want to roast a chicken.
Here's my pick at Luna Red… thanks to Wes Martin our impeccable waiter in every sense of the word. His service was great but his recommendations were even better. Under the artistic direction of Executive Chef, Shaun Behrens, we were treated to a delectable assortment of small plates. We started with a selection of Japanese style baked oysters which contained radish, ginger,shallots, soy sauce, and sambal rouille.  The killer for me was the second course of duck confit crepes which enveloped  crackling duck (so hard to achieve) meshed with hoison sauce, and scallions. So light. The crepe at Luna Bar differs from  the Chinese pancake. You'll see.
Have you ever tried a salad made from charred Romaine lettuce? I hadn't either. Wes recommended this lighter side of greens roasted under fire and glazed in a blue cheese cream, lemon croutes, and encircled in a balsamic reduction….. so delicious I could have made this my entire meal.
As the wrap like the tapas is a reinvention for many chefs, I liked the way Shaun handles the delicate bundling of walnut rice, fennel, avocado, and spice beet coulis in chard leaf dolmades. The taste of these ingredients following the fire roasted romaine salad was just terrific!
Saving room for desert was not an option however, we did have a few afterthoughts. Here is what Wes recommended: Lemon-anise cake made with blood oranges and beet gelato, shortbread cookie floating in an orange syrup. Emmm sounds great!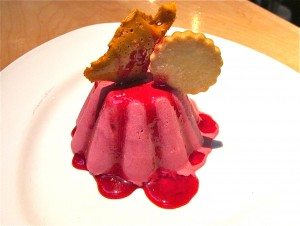 And if the stacked and dirty olive martini with Brazilian vodka was not enough to put me over the red edge, I know for sure  THAT desert would have.
Editor's Notes:
Location: 1009 Monterey Street, San Luis Obispo, ca, 93401
Reservations: 805-540-5243
Hours:
Lunch:
Monday – Friday
11:30 AM – 2:30 PM
Dinner:
Nightly 5:00 PM – 9:00 PM
Late Night Dining
Friday & Saturday
9:00 – 11:00 PM
Live Music
Friday & Saturday          9:00 – 11:00 PM
and Sunday evenings 5:30 – 7:30 PM
LIVE MUSIC MARCH CALENDAR
Happy Hour:
Monday – Friday
5:00 – 6:00 PM