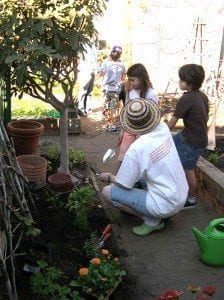 Hands-on instruction in the garden transfers young students' green learning at school to green living at home. Johnna Walker, the garden instructor, teaches the importance of sustainability.
By Alanna Brown, LuxEco Editorial Assistant
Larchmont Charter School, an alternative neighborhood school within LAUSD, takes green living to the future—to our children—with the implementation of green learning. Our precious earth is in their itty-bitty-but-quickly-growing hands, so best to start showing them how to take care of it, and themselves.
Johnna Walker, the school garden instructor, teaches them everything about sustainability, from harvesting herbs to the growth cycle of a pomegranate tree. And the children don't learn simply by lecture, but by demonstration and doing. This is one class in which they get their hands dirty—literally. Everything involved in the school garden, from planting, to picking, to cooking and eating, they watch and do it all.
Walker grew up gardening in the South, where her grandparents on both sides were farmers. It was the culture she lived in that everyone had a garden and neighbors shared their produce with one-another. By the age of 12, she tended her own flowerbed. It was ten years ago when she rediscovered the importance and the beauty of this seemingly lost world. What began as a volunteer project with a first grade class at Westland School in Los Angeles ended up as a job teaching the garden class at Larchmont Charter School in Hollywood. With a master's degree in education and her passion for  gardening, she is able to instill an appreciation and a great curiosity in the children she teaches. She has been at LCS for three years and says the program has grown every year, with more classes, more kids, and more consistency.
Her curriculum derives from a variety of sources. First and foremost, what she teaches is dictated by nature and the garden itself. It depends on the season, what's growing, what weed has sprung up, or what pest is trying to take over. Also, the state of California has a say. There are certain standards to be adhered to, which must link the lessons to science, nutrition, and cooking. As gardening ties in with many subjects—poetry, painting, math—Walker is able to coordinate her lessons with what the children are learning in other classes to enhance a well-rounded understanding. Additionally, at LCS the children are taught the importance of gardening organically. Walker uses all-natural products in the garden, down to the fertilizer, which is homemade worm compost, horse manure, and fish emulsion.
As for what is most important for the children to take from this experience, Walker emphasizes the heavy worth in children's respect for uncontrolled elements; closing the gap between learning and nature. For example, she wants the kids to gain a healthy awareness of the vastly important role bees play in our ecosystem, rather than having a blind fear of being stung. "This course has the potential to change the future by impacting children in a great way," she said. "It can give them an understanding of their own place in the cycle, so that they can ask the question, 'What can I contribute?' rather than, 'What can I get?'" What they are gaining now is knowledge that will empower them for the rest of their lives; sustainability, green living, organic gardening, and more. As adults, they will have the know-how to make healthy choices.
Aside from watching the children adopt these practices first-hand, the most rewarding part for Walker has been seeing the whole thing come full-circle. One of her great influences, Alice Waters, recently visited LCS to present the school with the prominent Edible Schoolyard affiliation. This prestigious branding means her vision is already a reality. It means the Larchmont Charter School garden is a place where kids are grasping what critical weight they possess in maintaining our planet and preserving their own health. "For me," Walker said, "that is the most powerful legacy."