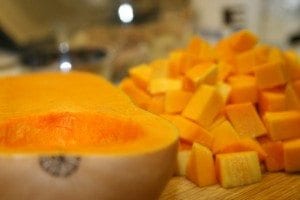 By Kerin Van Hoosear, LuxEco Editorial Assistant and author of Seasonal Cooking with Kerin
Perfect for autumnal cooking, try your hand at Roasted Butternut Squash Mac 'N' Cheese (and don't forget to buy your ingredients local, seasonal and organic!)

First, to roast the butternut squash you'll need:
one hot oven
1 butternut squash (medium sized), peeled and cubed (about 1/2″ x 1/2″)
1/2 tsp of nutmeg
1 1/2 tsp sage
salt and pepper
olive oil
Toss the cubed squash with the nutmeg, sage, salt, pepper, and olive oil and evenly spread out on a PAMmed pan. Cook for 20 minutes in a 450 degree oven, stirring halfway through.
For the Mac 'n' Cheese you'll need:
2.5 tbs "butter"
2.5 tbs flour
2 cups milk (any % is okay)
1 tbs minced garlic
1/2 white/yellow onion
1/2 cup gorgonzola cheese
1/4 cup fresh grated parmesean cheese
2  large balls of fresh mozzarella cheese, cubed
salt/pepper
box of your favorite pasta (I use penne)
bread crumbs (italian or regular)
preheated 375 degree oven
In a saucepot, heat your butter on medium to medium-low heat. when it's almost completely melted, add the garlic & onion. After a minute or two, add your flour and whisk it all together. Slowly whisk your milk in, making sure there aren't any clumps of flour.
Turn your heat to low and start adding the cheese, little by little. Salt and pepper to taste. You could also add sage/rosemary to this if you wanted. it should be thick, so if you pull your whisk out there is a good amount still stuck to it. If it's too watery add some more flour, a tsp at a time, and let it cook through, whisking a lot.
For the pasta, cook it to al dente. It's going to finish in the oven by soaking up the milky cheesy sauce. Drain the pasta and return back to its pot and pour the sauce in over the pasta. Add your cubes of mozzarella cheese (save a few to top it with) and butternut squash. Stir it all up and pour into a large baking dish that has been PAMmed. If it looks like the pasta has already soaked up a lot of the liquid, add about a 1/2 cup of milk to the whole thing. Cover the top with a few handfuls of bread crumbs, mozzarella cubes, and grate some more parmesan over it. Drizzle with olive oil.
Bake it in the oven for about 15 minutes with the lid on, then about 10 minutes with the lid off. It's done when you can see goodness bubbling on the sides, and the top has a nice crust to it.