Healthy Child Healthy World is on the vanguard of the environmental health, fighting  pesticides and toxins for family health.
This is why:
If This is What We're Fighting For, I'm All In
By Rachel Sarnoff, Interim Executive Director, Healthy Child Healthy World, Founder of EcoStiletto and LuxEco Living Advocate
LuxEco Living Editor's Note:  Get some tissues, because this is a real tear-jerker. Fighting Pesticides and Toxins to support vibrant family health is no laughing matter.
But  please read to the end because there is hope and together we can make the difference.  HCHW is making it easier than ever to invite you to join the  fight.
I guess it was inevitable.
Steep yourself in information about rates spiking to epidemic proportions in childhood autism, asthma, cancer and more, and you're bound to become a maternal hypochondriac.
But my daughter really was seriously sick. For the first time in her four-year-old life. Of course, she's had the occasional scratchy voice, fever or pick-me-up-I'll-barf-down-your-back stomach flu, but she usually kicked it within 48 hours.
This time it was different. A full seven days ago, she started out just plain cranky and headach-y. Cranky and headach-y devolved into feverish and whiney. Feverish and whiney woke up to glazed-eyed and devoid of energy. By the time I got her to the doctor and told them about the strep throat notice that had just gone out from her school, the Barnacle was basically a limp rag doll in my arms.
Luckily, my husband was off that week so he could stay home with her. We gave her antibiotics—in a bite of ice cream that was probably so nasty she'll never eat the stuff again—and let her sleep in.
So I went to work, my brand-new post at Healthy Child Healthy World, which is where I read this piece by Christine Brouwer, who lost her four-year-old daughter to cancer in 2008, and went on to found Mira's Movement.
Mira was 23 months old when she began to complain of headaches. A week later, she began to throw up once or twice a day. A week later she began to sit on the couch for longer periods of time. Yet another week later, she was refusing to walk. After 4 weeks of symptoms and tests with no clear answers, her doctor sent her for a CT scan. Moments later, we were looking at an image on a monitor that the radiologist was explaining showed hydrocephalus (a build up of fluid and pressure on the brain). He said Mira would need surgery immediately to relieve the pressure in her head. She had a brain tumor.
Later that day, I called my husband to check on our little patient. She wouldn't eat, he told me. She wouldn't drink. She just lay on the couch, dozing or sleeping. She hadn't peed all day. I called our doctor, an 80-year-old pediatric veteran not prone to exaggeration, who told me that if she didn't pee within the hour, we needed to take her to the emergency room.
I totally lost it. I visualized my little baby on the couch, unresponsive. I remembered reading an excerpt from an article, The Flower That Shattered The Stone, a memoir, that Nancy Chuda is in the process of writing. In it she had linked pesticide exposure to the cancer that had killed her five-year-old daughter Colette in 1991.
We had been so careful as parents, cooking only organically grown foods, yet despite our best efforts, we could not shield our child from the man-made poisons that permeate our environment. When I was pregnant, the cozy apartment we lived in was fumigated without our consent. We didn't think anything of it at the time and had no reason to question our manager's assurances that we could safely return after a few days. But once Colette was diagnosed, we began to wonder if maternal exposure to these potent chemicals, which we later discovered contain known carcinogens, had altered Colette's genetic makeup and activated the growth of the deadly tumor while she was gestating in my womb.
Driving home, I re-played the memory of our home renovation, when I spent an entire six months of pregnancy exposed to old-paint lead and god knows what else. I thought of all the paraben-laced sunscreens I slathered on before I knew better, and the non-organic food I ate when I couldn't find anything else. By the time I walked through the door, I was hysterical. I held my feverish daughter in my arms, taking breaks only to leave the room to cry.
For me, that was the worst of it. My daughter's immune system kicked in and by the next morning her eyes were bright, the fever was gone, and she was smiling again.
But the experience put things in perspective. I could not begin to imagine how Christine, Jim and Nancy must have felt as they watched what they thought at first to be everyday illnesses become nightmares completely beyond their control.
At this point, I must sound like a broken record. But believe me when I tell you that the more I learn about the connection between a child's environment and his or her health, the more I understand how incredibly high the stakes have come to be.
This is about our children. It's about their right to breathe. It's about their right to live. It's about doing everything that we can to prevent the nightmares that Nancy, Jim and Christine endured.
The picture above is of the Barnacle on her fourth birthday.
If this is what we're fighting for, I'm all in.
————-
This March 3rd would have been Colette's 25th Birthday. To honor her legacy and to continue to build this important movement, Healthy Child is hosting a celebration. Please join us if you're in the area!
If you're unable to attend, please consider making a donation to Healthy Child Healthy World as a gift to honor Colette.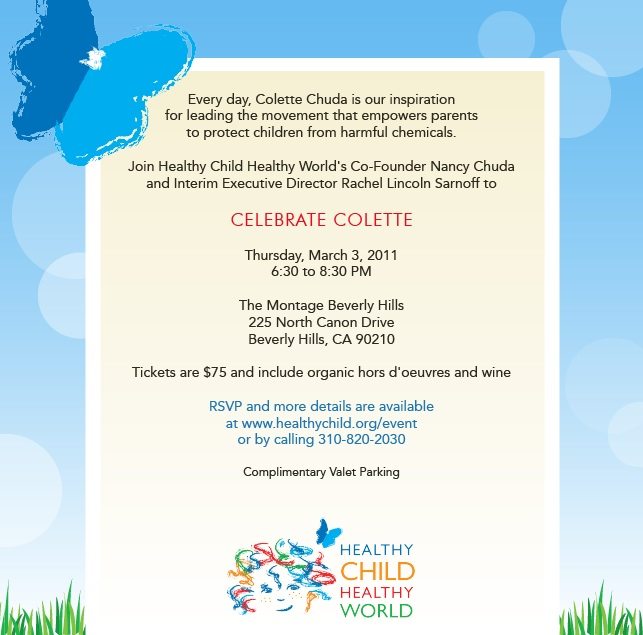 Let's work together make preventable diseases history. Join the fight!
To read more about Environmental Health and Fighting Pesticides and Toxins for Family Health please visit Healthy Child Healthy World